Des Moines Roof Heating Systems and Gutter Heat Trace Solutions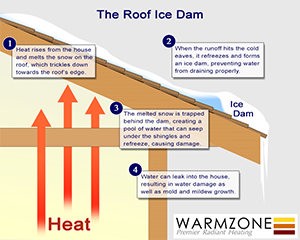 Des Moines usually doesn't receive an overabundance of snow during the winter, but given its 35 inches of annual snowfall, that's more than enough to result in ice dams, the single largest threat to roofs and homes.
Warmzone roof deicing systems are designed to prevent ice dams and protect roofs and gutters from heavy ice damage. One of the industry's most popular roof heating solutions is the RoofHeat STEP low-voltage roof deicing system. This unique system is a favorite among homeowners and professional roofers alike.
The system features thin, flexible polymer heating panels that are installed discreetly under the roof shingles. The panel can be nailed and stapled through and cut on site. Transformers are used to step down the high voltage to low-voltage (60v or less). The semi-conductive heating element is also self-regulating, so it will never overheat, and can safely be used to heat metal roofs as well. This system has proven itself to be one of the most effective systems for keeping roof edges clear of snow and ice, and is also commonly installed in roof valleys to facilitate runoff.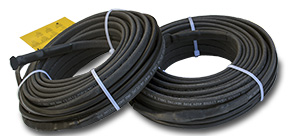 Self-regulating heat trace cable is also commonly installed on roofs and in gutters of homes in the Des Moines area. The heat cable is secured to the inside of the gutters and downspouts to provide a clear channel for the runoff. This also helps to eliminate heavy ice buildup that can damage gutters.
Warmzone offers free roof heating system installation training for roofing professionals who will be installing the deicing system. This is a valuable service that ultimately saves the installer and the homeowner time and money. Free technical support is also provided for installers. If they have any questions during the installation they can call and talk with an experienced professional to resolve their questions. Warmzone is proud to offer its customers the most comprehensive service in the industry.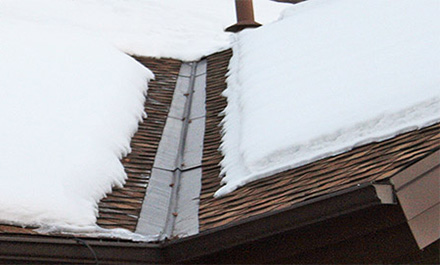 Roof Heating Options
Install the low-voltage RoofHeat STEP heating element along the roof's edge
Run a zigzag pattern of self-regulating heat cable along the eaves.
Use cable or RoofHeat STEP to warm the roof valleys and/or trouble spots.
Install self-regulating heat cable in gutters and downspouts.
For flat roofs in cold climate areas, heating elements can be installed under the entire roof surface to protect the structure from dangerous weight loads. This is a costly option and only recommended in extreme cases.
Warmzone Professional Roof Deicing System Design Services
Warmzone has years of expertise designing and installing roof heating systems. Talk with one of our roof heating professionals to learn which roof heating option would be best for your applications. Remember, each option can be customized for just about any type of roof and configuration. We'll work with you to offer the best solution for your budget and roof heating needs. Call a roof heating expert today at 888.488.9276 to learn more about your options. We're happy to answer any questions you may have – without any pushy sales pressure.