Radiant Floor Heating Systems
Heated Floors for Des Moines and Surrounding Areas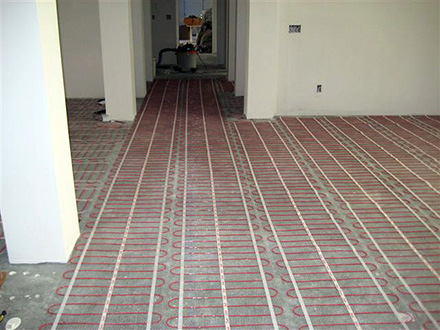 Installing radiant heated floors in Des Moines is fast becoming the new standard in home heating. Radiant heat has proven itself to be the most efficient home heating method available. In fact, over 99 percent of the energy goes to heating the home, so there's virtually no heat loss with radiant floor heating systems.
For almost two decades, Warmzone has been providing Des Moines and surrounding areas with the industry's premier floor heating systems. And unlike many providers that only offer one or two of their own systems, Warmzone offers one of the largest floor heating selections around, from several different manufacturers. We're not locked into having to try and convince customers that our one product is best for heating their home. Warmzone is unbiased when it comes to floor heating systems, so we will gladly review all the available options with you before recommending the systems that would be best for your floor type and layout.
Radiant floor heating systems consist of three main components: a heating element, a controller / activation device (thermostat, timer, etc.), and sensor. ComfortTile, Warmzone's most popular system features thin resistance heating cable that is available in lengths of the spool or mats. The mats feature cable that is pre-spaced on a flexible mat with an adhesive backing. The mat is rolled out over the subfloor and secured, making for quick and easy installation. Thinset is then applied and then tile is placed directly over the cable. The ComfortTile system can be used to heat other types of flooring as well, but is especially well suited for heating tile and stone floors.
In addition to a large selection of floor heating systems, Warmzone also carries a variety of advanced thermostats. Various programmable and non-programmable thermostats are available. Other thermostat options include thermostats with an ambient sensor (for room temperature) or a sensor that is placed directly in the floor to provide the floor temperature.
The programmable TOUCH thermostat (available with or without WIFI capability) has proven to be a favorite among homeowners. The state-of-the-art thermostat features an easy-to-use interface with an installation wizard that simplifies the install.
The thermostat's default setting is for ambient temperature control with floor temperature protection. The included floor sensor can be replaced with any floor sensor with a setting to make the necessary adjustments. The floor protection includes settings for laminate, wood, tile, and concrete or allows selection of maximum temperature setting. Whether you prefer the heating to start at a specific time or you want the floor to be warm at a specific time, or however you want to configure your floor heating, simply follow the wizard.
We also offer a proven system that can be installed to heat existing floors. The thin heating element (called RetroHeat) can be stapled up between the floor joists, followed by an application of Batt insulation (to direct all the heat upward to the floor). This is an effective and affordable way to heat your existing floors.
Call a floor heating expert today to learn about the many floor heating system and thermostat options. You'll discover the ideal system for heating any type of floor, including hardwood, tile, laminates, marble, and even carpet. We're happy to answer any questions you may have – without any pushy sales pressure. Call and chat with a Warmzone floor heating professional at 888.488.9276.